Few things are more frustrating than trying to sleep when you're hot, and for some of us, overheating is a nightly occurrence. There are a number of reasons you might be a hot sleeper, with the most common being pretty obvious: you bedroom is too hot. Most of us sleep best when ambient temps are around 65 degrees, or even a little cooler, says W. Chris Winter, MD, a sleep specialist and author of The Sleep Solution: Why Your Sleep is Broken and How to Fix It.
But various health conditions can also ramp up your body temp, making it tough to slumber soundly. Menopause and hyperthyroidism are common culprits, as is obstructive sleep apnea, a sleep disorder in which the throat muscles relax and become too narrow to allow for normal breathing. "As the person works harder to breathe through a relaxed, narrow throat, the heart rate will go up, adrenaline will rise and body temperature increases," says Jerald H. Simmons, MD, a neurologist and sleep specialist with Comprehensive Sleep Medicine Associates.
1
Climabalance Hypoallergenic Lightweight Comforter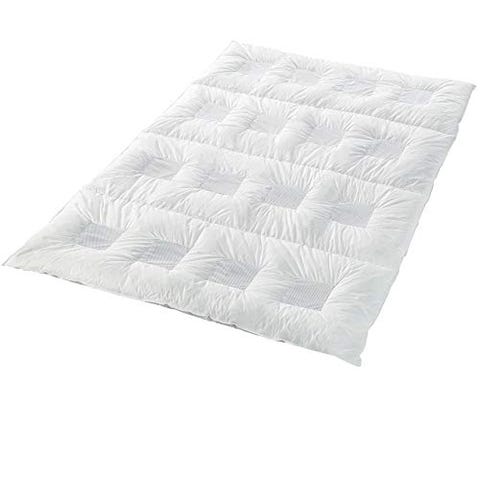 This Climabalance comforter claims to reduce night sweats, thanks to a high-tech mesh fabric that moves excess heat away from your body and adjusts your sleep temp to optimal levels. And no need to swap out comforters when it gets cold outside: The mesh panels work to warm the cool air to match your body temp. As a bonus, the comforter is both hypoallergenic and machine washable. Amazon reviewers who have suffered from night sweats say it keeps them cool and helps them sleep through the night.